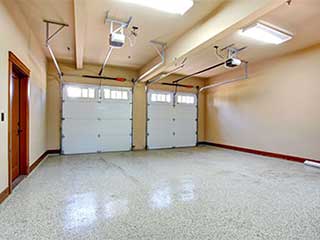 Installing a New Garage Door Opener
When the old unit has seen its course, or when looking for a new opener for a new garage door, you need to consider all aspects. What does that mean? Well, you need to think about horsepower output, to ensure the opener can lift the garage door. You need to think about connectivity, from Wi-Fi opener remote controls to wall switches and other features. Then you have to ponder noise level. Belt drive openers work very quietly, while chain drive openers will make more noise as they work. All these aspects will get addressed when you consult with one of our local Sammamish opener installation professionals. Find the best model for your house from brand names such as LiftMaster, Genie, and others. With professional opener installation, everything connects correctly and the system can work with no problems right off the bat.
Quickest Opener Troubleshooting and Repairs
Problems that make the garage door opener fail to work make your day suddenly exhausting. You want your automatic garage door to work without you having to even think about it. So a malfunction with the opener, for its potential complexity, gives you a hard time. Well, good news. For any problem with garage door openers in Sammamish, you've got local help available. The logic board could fail due to wiring or other issues. Sometimes replacing the opener logic board is the right solution, other times it's a simple rewiring process. The opener remote not working can occur due to various factors. Reprogramming the remote can solve it, but sometimes you need more troubleshooting. And then you've got garage door opener repairs for hardware like the trolley, chain, or motor gear. These parts can wear or break and will render the unit inoperable when they do.
Many troubles with your garage door may actually be your opener's fault. This can be easily inferred. For example, if the system seems to have a hard time opening or takes several tries to manage it, if it makes a lot of noise, or even starts to reverse in the middle of opening. These scenarios are usually a dead giveaway. Wear and tear from every day use can take their toll over time, especially if you've had the same door for years. The issue can always worsen if left untended, and might even cause damage to other parts of your system, so it's best to have our professionals deal with it as soon as possible.
Maintenance Is Often The Best Medicine
No matter what the trouble is, or what opener model you have, our experts can handle it! We work with a wide variety of brands, and our professional team is more than well versed in dealing with every single type of problem. Your opener may simply need a little tune up, or some of its internal parts have worn down over the years and simply need to be replaced. The remote or control pad itself may even be the cause, which is something we can take care of as well.
Replacement or Installments
Whether you simply decide an upgrade is in order, or if you're having a new garage built and need a new opener installed, we can help. Our professional technicians will assist you in finding the model that will be most suited to your door's needs, taking full consideration of how often the system will be used and what sort of weather conditions it will have to endure.
Cheapest Sammamish Garage Door Opener Repairs
Dealing with unexpected problems? You have recourse options at a moment's notice. Our same day opener troubleshooting services have helped countless customers in the nearby area with all sorts of troubles. We always strive to provide the best customer services and the most effective solutions at the best prices possible. For quick solutions and affordable garage door opener repairs, go ahead and contact the best Sammamish e opener service technicians near you!
Our technicians never sacrifice the quality of our service for speed. They make sure to go about the required work in a timely fashion, so you can go about the rest of your day, but they never settle for a short-term solution. Call our Garage Door Repair Sammamish experts today!
Torsion & Extension Spring Replacement
Torsion & Extension Spring Replacement
Roll up Garage Door Maintenance
New Opener Remotes & Clickers
Garage Door Cable Replacement