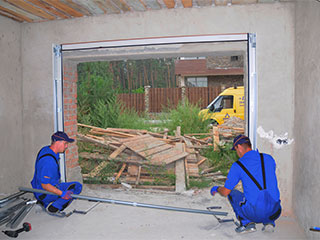 Accidents Can Happen
Unfortunately, we can't control everything that can cause damage to our garage door. Bad weather, an accident while parking, and a great number of other things can lead to such trouble. Even age can be a factor, especially if the system's been used daily for years without receiving proper maintenance. Parts simply wear down over time, which reduces the reliability of your door. It may move shakily, get stuck or take sever tries to get all the way back up. It's important to get these things checked out right way, because leaving these issues unattended can often worsen the problems later on.
That's What We're Here For!
Whatever your garage door may need to get back to its "true self", our professionals can take care of it. Thanks to years of experience, there's nothing we haven't dealt with before. Our experts use the replacement parts of the highest quality, and work with special tools to get your door back into an operational state in no time.
If any parts have been loosened or dislocated, such as bolts or cables, we can get them back to their proper place. Should something like the spring or opener require some repair work to be done, our professional technicians can handle that as well. If the damage proves to be too much for a functional fix to work, we can replace the problematic parts instead. We're prepared to work on a variety of different systems, comprised of various materials, as well as different parts. Whether your garage door has a torsion or extension spring, our experts will be able to handle them with ease.
Also, should your door panels get bent or busted because of an unfortunate accident, don't fret! We're able to replace these components with new ones that will be of the appropriate color and size.
What Are You Waiting For?
Contact our Garage Door Repair Sammamish team today and let us take care of any related issue. No problem is too big for us.
Couldn't find what you're looking for? We also offer:
Garage Door Troubleshooting Services
Garage Door Torsion Spring Replacement