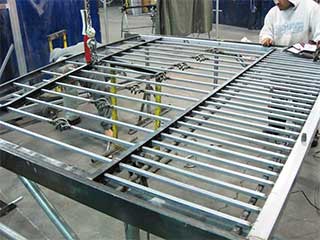 Fixing and Changing Rollers
All sliding gates use rollers to facilitate their opening and closing. These components come in different shapes and sizes, depending on the structure of the automatic system. They usually have a rubber cover so that they can work smoothly and last longer without requiring lubrication maintenance on a regular basis. If your gate doesn't move smoothly, the issue could be with the rollers. Not to worry, our technicians at Garage Door Repair Sammamish can easily fix them. In some cases, tightening the bolts can be enough to deal with the problem. In case of unexpected accidents and/or the accumulation of wear and tear damage, you can count on us to replace the existing rollers with matching ones in no time at all.
Opener Repair for Smooth Operation
The opener can malfunction and fail completely because of a damaged or broken hardware or electronic component. Our first task is to get down to the root of the problem. If you have a snapped chain or sprocket, for instance, we will replace it with one that will perfectly match your gate system. If the issue is with the motor, we'll take care of that as well. When the motor, your safety sensors or even your clicker fail to work properly, you can expect us to replace it quickly. Our gate repair services cover openers of all types, regardless of their brand or year of manufacturing.
Rotten Gate Repair and Full Restoration
Wood makes for beautiful gate material, but it can easily get damaged by water. Should that misfortune befell you, our repair work will begin by assessing the damage level. If the rot covers a fairly small area and/or is pretty much superficial, we'll fix the affected parts by removing the decayed wood and then covering and sealing the dents. In case of larger scale damage, replacing the affected posts and/or panels will be the only solution. When you need a professional to fix your automatic gate, give our experts at Garage Door Repair Sammamish a call.